So, you're thinking about hiring a
professional
Pet Photographer
?

In the Bay Area alone, Pet Photographers span pages across Google, but how do you know who is the right photographer for you?
Don't tuck your tail and hide; here I've assembled a guide to help you hire the right photographer for the job.
Photographic Style


Generalist vs. Specialist

Expertise & Training

Product Options

Investment

Photographic Style – Style varies from person to person. And the same goes for photographers, we each have a different photographic style. I list this first because if you don't love the photographer's style, move onto the next.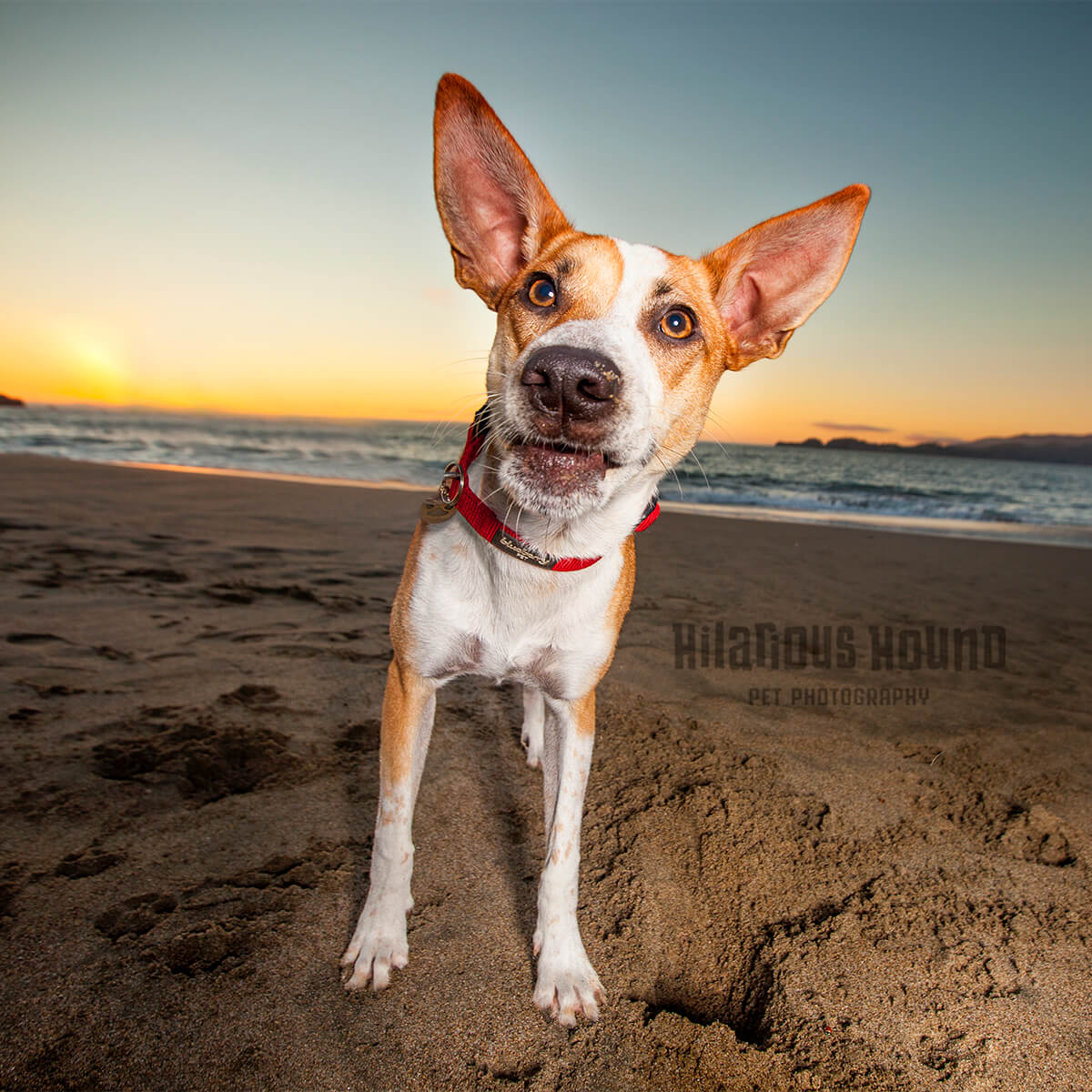 And our Hilarious Hound style shoots, which take place at local San Francisco locations. This one is at Baker Beach.
Some photographers are strictly indoor photographers, and some others may be strictly Black & White shooters. With Hilarious Hound, our style is up-close and personal, with dramatic angles and bold colors, featuring the beautiful landscapes that San Francisco has to offer! If you haven't done so already, you can see our photographic style HERE.
Generalist vs. Specialist – Just as you may spend more for an authentic Italian meal over the standard family restaurant down the street, photography operates the same way. You may pay a bit more, but you know you'll be receiving quality.
Some photographers cover the whole gamut, from kids and families to weddings. Instead, I specialize in photographing DOGS!! When you select a specialist you know that photographer has the right experience, is focused on your precise needs, and can deliver exactly what you're looking for.
Expertise & Training – Photography takes skill and practice to develop a good eye, and proper education to master the technical side. Anyone can take a picture of their dog,but as a Pet Photographer my expertise goes well beyond a high-quality camera. I flourish by using professional skill to quickly assess light balance, where to direct focus and more, not to mention knowing how to read and respond properly to animal behavior is where the real art is created.

I come from a background of Fashion and Beauty photography with a BFA in Photography. But when I decided to make the switch to specialize in Pet Photography I began studying dog training and behavior, apprenticed with trainers, and read whenever I could. You may have even seen a few our #TrainerTuesday videos on Facebook.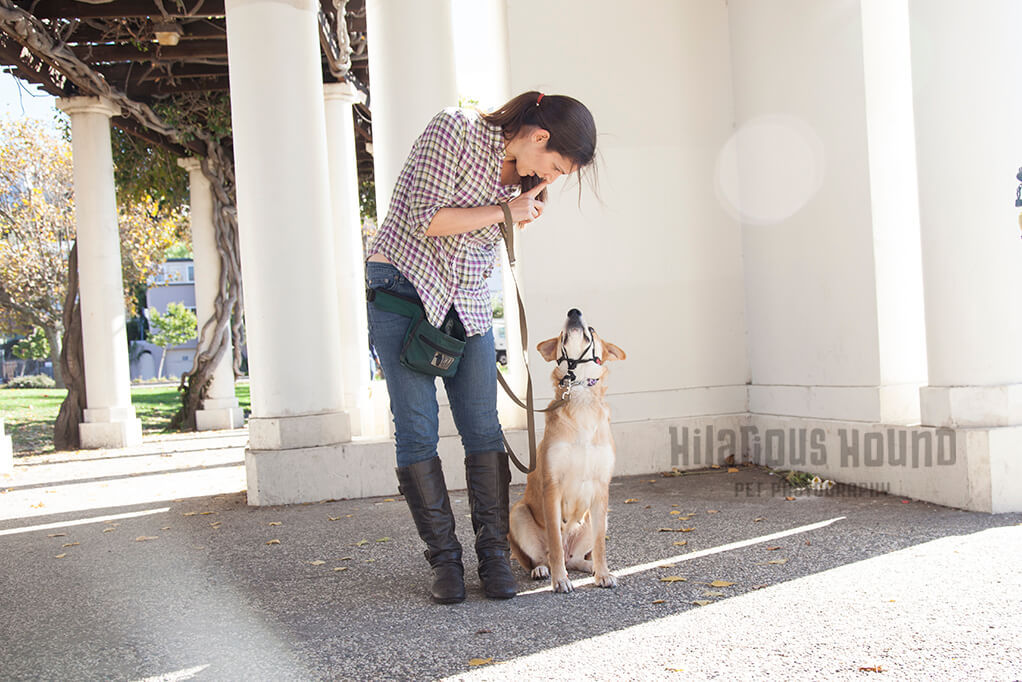 This is Kristina from No Problem! Dog Training practicing a solid sit and look with Gertie!
Product Options – Do us both a favor and ask yourself, "What do I want to do with these photos?".  Knowing what you want to do with your photos will help determine the right photographer for you. Some photographers specialize in creating the final art for you hang on your walls to cherish those memories. While others simply go with delivering digital files and sending you on your merry way.
If your heart wants to create art for your walls, then I am your gal. With Hilarious Hound, your options to create custom art are endless. Whether it's featuring Fido's face large and proud over your sofa, or remembering his story with a coffee table book, we got you covered!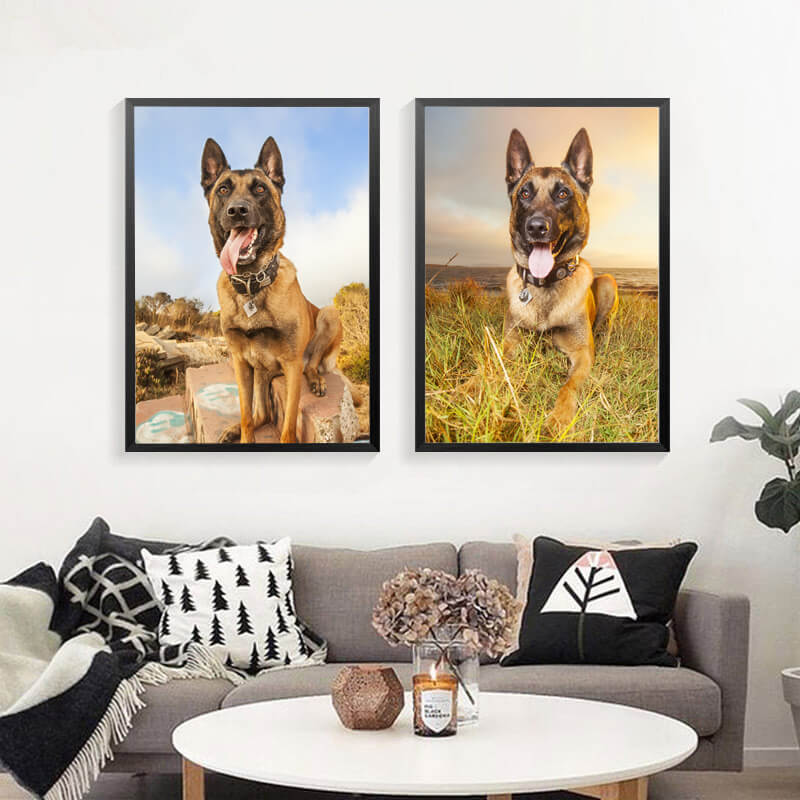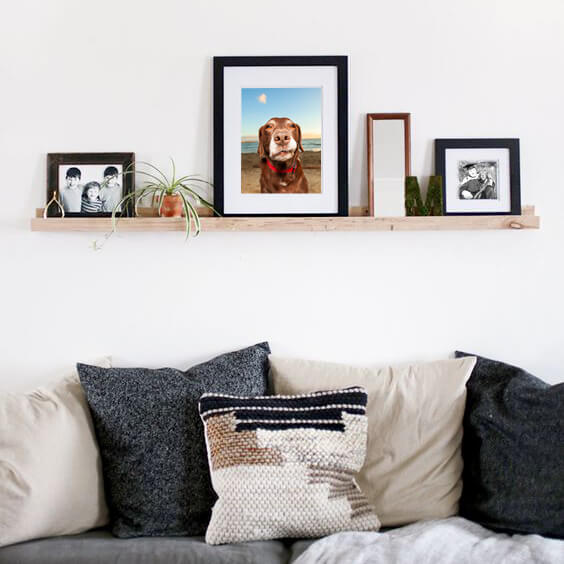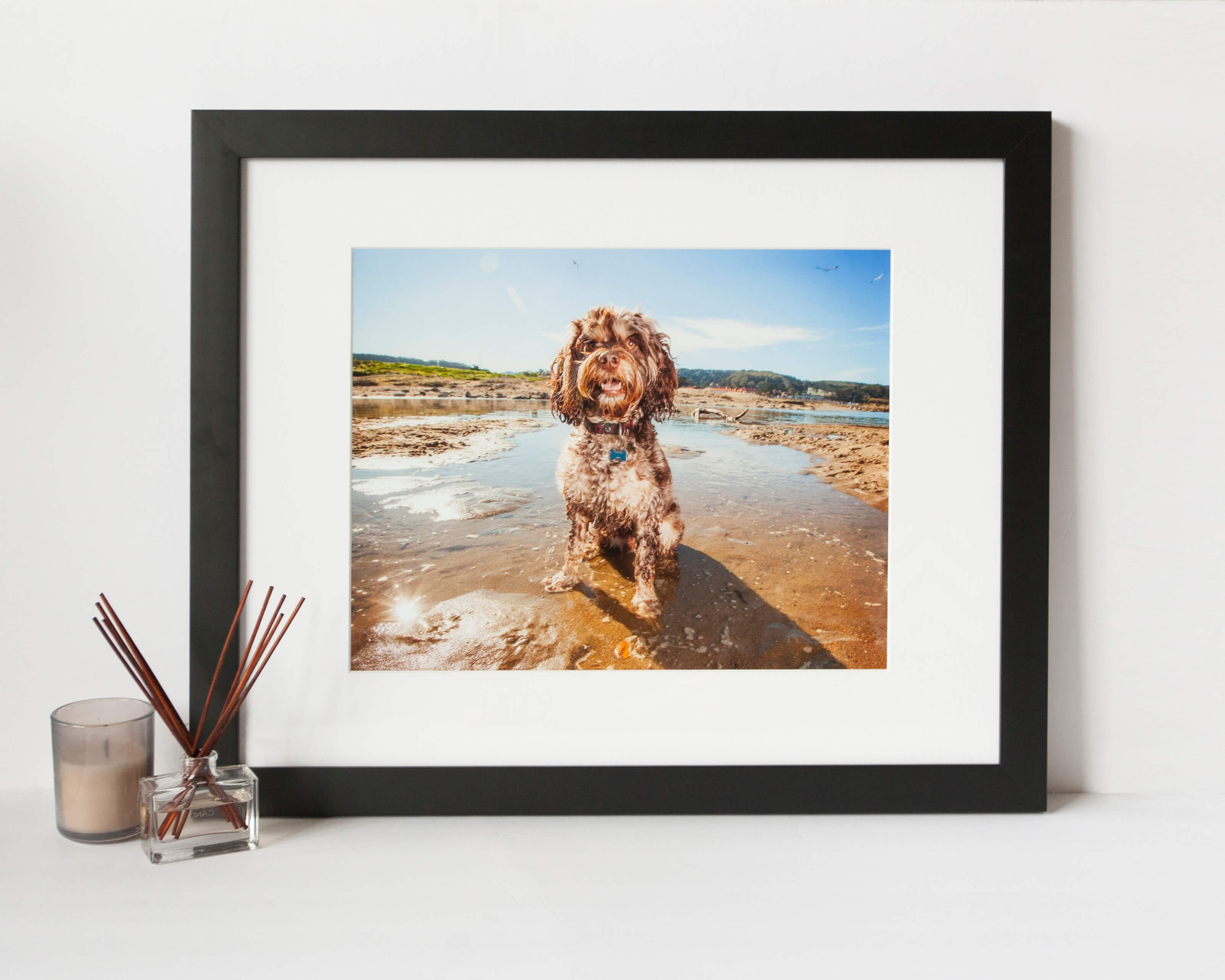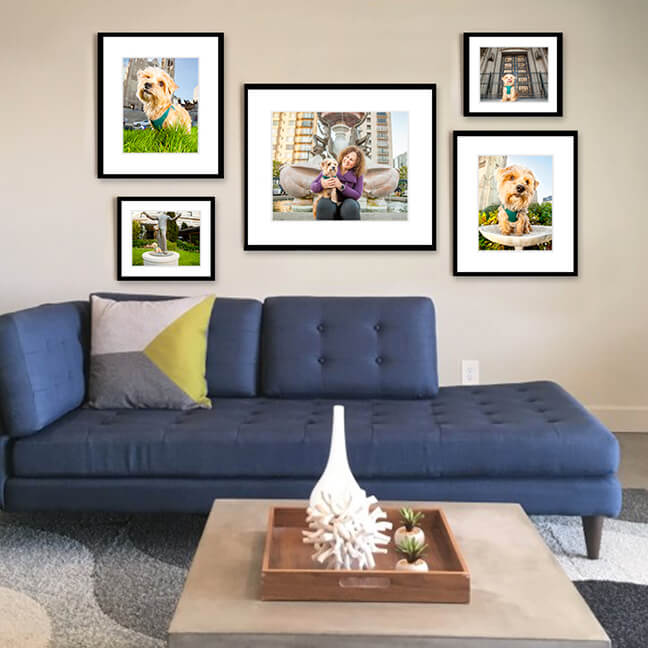 Digital images are great for some things, like next year's Holiday Cards, but there are better ways to display your pup. 
Investment – Yes, it's time for the money talk. You may be comparing photographers on price, and if that's the case, please go back and read points 1-4 again. Photography is a luxury item, and 'You get what you pay for' couldn't be any more true when it comes to photography!! This applies not just to the final product, but with the service you receive as well.
Hilarious Hound is a boutique service. And what that means is each month I take on a limited number of clients to ensure that I can provide the best possible service to each one. You aren't treated like a number that's rushed out the door, you are a name and a friend, and so is your dog.
I don't want to spoil our Hilarious Hound secrets, instead I want you to experience it for yourself! So, what do you say, let's schedule your complimentary consult and get your Hilarious Hound experience started today!
And If you still aren't sure, look for reviews and see what others have to say. Check out our five star reviews on Yelp!
Schedule your complimentary phone consult today!