DAY 5 – NATIONAL PET PROFESSIONALS WEEK —
Have a pup that needs training? No problem! That is, check out 'No Problem! Dog Training', your go-to East Bay dog trainer!
Today's featured Pet Professional is Kristina from 'No Problem! Dog Training'. Going into Kristina's interview I knew I wanted to take a slightly different approach for her post. Yes, Kristina has years of training to support her work, but I found it more important to share some pointers on how to ensure you hire the right dog trainer for you and your pup!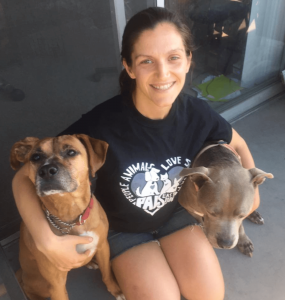 So I asked Kristina the top questions one should ask when evaluating a potential trainer for your fur baby. Here's what she said:
How long will it take to train my dog?
Steer away from any trainer who makes any guarantees or promises. How long it takes to train a dog depends on the dog's physical and behavioral limitations along with the pet parent's goals and how much work they put into it. If someone promises to "fix" your dog in a super fast period of time, consider this a red flag.
Are you certified?
There are a lot of potential certifications in the dog training industry. Not being certified doesn't necessarily make them a good/bad trainer, but it can give you a good base line. And not every certification is created equal. CCPDT is a national certification organization that has a rigorous test and then requires continuing education so that everyone with the certification continues to educate themselves on all the latest research and developments.
Are you part of any organizations?
If the trainer is not certified, see if they are part of any dog behavior organizations like APDT, which holds various seminars and promotes positive reinforcement training along with has seminars on the latest scientific research-based training.
How did you become a trainer?
There are so many ways to become a trainer these days from internships, schooling, and online programs. Who or where your trainer learned their skills from is important. How long they studied before they considered themselves a trainer is also important. No one becomes a good trainer in a month! All trainers should continue to educate themselves by staying up to date by reading books, articles, attending seminars/webinars, and conversing with fellow trainers.
What is your philosophy?
This is going to tell you about how this trainer is going to approach helping your dog. This is more complicated than negative/positive reinforcement. Even within the Positive Reinforcement school of thought, there is a variety of how it is applied.
Are there issues you won't work on?
It does not mean that they are a bad trainer if they don't work with certain behaviors. They simply may not have the knowledge or desire to, but it is important for you to know whether the trainer can work on the particular behavior issue that you are trying to resolve.
If you are struggling to teach your pup a new fancy trick or have a behavioral issue that you would love to resolve, Kristin is more than qualified to help! Give her a call and she can share more details from her many years of training in both NYC and California and her experience working with fearful, reactive, anxious dogs…and her recent CPDTA-KA certification!
Tune every 2nd and 4th Tuesday to our Facebook page to see Kristina and I live, dishing out all kinds of training tips!